Exam Format
The new format of the exam is divided into 2 discrete assessments, a FEx Written and FEx OSCE.
FEx Written
The written examination is made up of 2 x 180 minutes papers with a break in between.
Select Choice Questions (SCQs)
Multiple Choice Questions (MCQs)

Each MCQ comprises a stem and four alternative responses

Extending Matching Questions (EMQs)

Each set of EMQs Questions are written around a theme/Dx/Rx/Ix.
Select an option from a list of up to 20 options. You may select the right option more than once (i.e. for different questions, you may select some of the same answers).
Tip: Read the vignette/stem & try to come up with the answer first, then look at the list of options. This will stop you getting distracted by the options.
Short Answer Questions (SAQs)
The revised format SAQs require answers that are highly structured and specific, with responses that will require single words or short phrases, rather than mini-essays. These allow you to show your consultant-level integration of knowledge and ability to prioritise.
How to study for the Written
SCQs
Do lots and lots of practice MCQs. And then do some more. If you have MCQ papers that don't have answers, get your study group to do the paper and then compare answers. Then go and search the textbooks for the 'correct' answer - questions in old papers turn up again and again. See shakEM.co.nz for a mix of MCQ papers, plus invest in the two MCQs books listed in Recommended Texts. I found that the questions in the Tintinalli MCQ book were slightly easier than average, while the questions in the Yolande Weiner book were slightly harder than average.
A certain FACEM once told me that you should be aiming to get about 60% in your practice papers leading up to the exam. Don't be disheartened that you are not getting more - our study group averaged about 60% in the lead up, then beat the rest of Australasia in the real thing! Trust that everything will come together by the big day.
SAQs
You need to practice doing exam questions. You've got to practice. Real questions. From the start. The SAQ exam is very time-pressured - you need to be able to organise your thoughts and write them down in a short space of time. You could start doing them with open book technique, then closed book, then to time. Doing SAQ's to time is very important – you need to train your hand muscles to endure writing for 3 hours solid. Start by doing just one to time, then two in a row, then three… and build up. Use a stopwatch and be firm on yourself. Tell anyone in the house not to disturb you for that time and just keep writing. You find that if you go just one minute over on one question, it throws you off for the rest of the exam. Time management cannot be under-estimated in importance.
The new format is not completely intuitive, and getting used to providing coherent, prioritised and correct answers, under pressure, will take some practice. Do lots of the old-style SAQs and VAQs to learn content, but do the new SAQs to practice your consultant-level prioritisation. Practicing the new-style SAQs can help to control anxiety you may feel during the exam, induced by the large number of blank answer spaces you will face. Don't panic! Develop your exam time-management skills during revision so that you can finish the exam with time to go back to questions that need a second look.
Compared to the old VAQ/SAQ system, relatively few words/short phrases are required. The amount of space provided is the clue to the amount to write – so DON"T WRITE OUTSIDE OF THE LINES. Examiners were specifically instructed to ignore anything written outside the provided boxes in the 2015.1 exam. Try and be succinct – less may be more, don't say in a sentence what you can say in 1-2 words If you accidentally write 4 things in a question that asks for 3, or you want to re-prioritise your answers, you can go back & write: 2nd, 1st, 3rd - next to each line if you want to re-prioritise. Prioritising answers in the SAQ is a big issue, and probably the hardest part of the exam. Grill your study group partners about why they chose to prioritise answers certain ways.
Cut the Crap - the generic "Triage to resus, cat 2, IV/O2/monitoring" will no longer get you marks, and will take up some of your precious answer space. A house surgeon can provide that answer. This exam is testing to see whether you can think like a consultant.
High Yield Topics for the Written - where to start
ECGs - you need to be an expert ECG reader - this allows you to go into auto-pilot on these questions and make up valuable time, in a very time-pressured SAQ exam
ABGs - as with ECGs, interpreting ABGs needs to be something you can do in your sleep. Practice all the old-style questions on ABG interpretation that you can find
X-Rays - especially Chest and Orthopaedic X-rays
CT Scans - especially CT Head, CT Abdomen and CT Chest
Resuscitation - as Emergency Physicians we need to be "expert in this area", a significant part of the written exam will be on adult and paediatric resuscitation
Airway - advanced airway questions occur commonly (think of how many ways you can alter a 'standard' RSI depending on different patient factors - eg trauma, pregnancy, head injury, tox)
Toxicology - have a proforma that you can use for all Tox Presentations
Administration - classic questions appear in the FEx on various admin topics
FEx Clinical
The OSCE is made up of 18 clinical examination stations, which may include standardised patients, observation stations, clinical scenarios, communication scenarios and simulations of management of critically ill patients. Most stations will be 10 minutes duration, which includes 3 minutes of reading time before you enter the room. There are also double length OSCEs which have previously been simulated resuscitation stations. The first sitting of the OSCE in 2015 was run over 4 days, with each candidate doing 8 x 10min stations and 1x 20min station on each of two consecutive days.
How to study for the OSCE
You really, really need to be studying for the OSCE with others. This cannot be done by yourself, no matter how helpful your partner/dog/cat/pillow are for practicing on. You need the feedback of others who are in the same mindset - this part of preparation will not work for Lone Warriors who feel that they study best by themselves. Leave your ego at the door and join in your study group!
You should be working in ED during the lead-up to the OSCE - treat every patient you see like you are in an OSCE. Do lots of Mini-Cex assessments to get feedback from different seniors. Watch each other seeing patients. Teach juniors to do procedures, like you are doing a teaching station in an OSCE. Unlike the previous exam setting where you needed to go and trawl the wards for patients with sarcoid or other random diagnoses, all your preparation can be done in ED.
Read the curriculum & know the domains.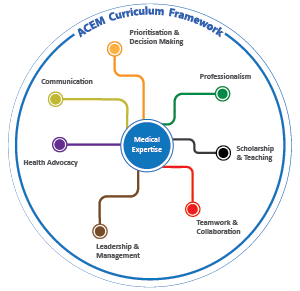 The "medical expertise" domain is the main one for factual medical knowledge, but you need to know all of the domains, and how to approach and answer questions with regard to the domain/s being tested. The OSCEs will test all of the domains in the framework. Each station stem will have the domains being tested on the question sheet/stem, that you can read outside the room, and use to start preparing your approach.